Easy Access to Dun Laoghaire
Getting to and from Ireland has never been easier or more affordable with daily direct flights to Ireland from a wide range of cities in the UK, Europe and the US. As a capital city, Dublin is served directly from the main world hubs and by all the major airlines and low cost airlines.  Flights during the Covid Pandemic may be affected.
It is also easily accessible by sea directly into Dublin Port with Irish Ferries, Stenaline & P&O Ferries
Dun Laoghaire is located in South County Dublin, about 10km from the capital city, Dublin.
The closest ports for travelling to the Regatta is Dublin Port, which is 20-30 minutes from Dun Laoghaire by car (depending on time of day). Rosslare Port is about 2 hours south, and Belfast or Larne Ports are approximately 2 hours to the north.
Ferries to Dublin Port
Several ferry companies use the port of Dublin, including Irish Ferries (irishferries.com), P&O Irish ferries (poferries.com) and Stena Line (stenaline.co.uk). There has recently been an increase in direct routes from continental Europe as well as the traditional routes from the UK.
Brexit and Travelling to Ireland – FAQ's
There are several other ferry operators and ferry routes to Ireland from the UK and Europe, and the various routes can easily be compared on directferries.ie.
Airlines
Dublin is serviced by a number of scheduled and low-cost airlines.
Aer Lingus is the national carrier and flies from many UK and European airports, both international and regional, often at very competitive rates – aerlingus.com
Ryanair is another well-known carrier, with many alternative departure airports, from Britain and throughout Europe – ryanair.com
Many other European and Global airlines fly into Dublin on a regular basis.
---
Airport Transfers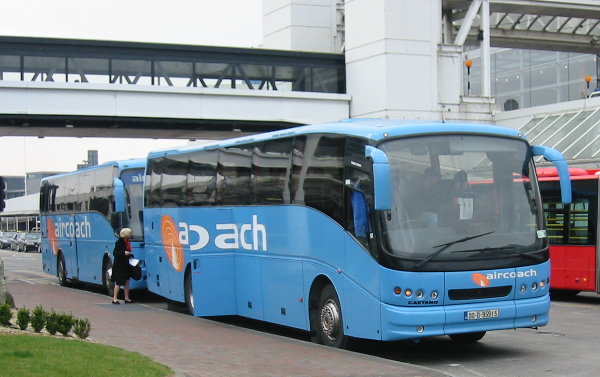 Aircoach, also known locally as the "Blue Bus" offers a service from outside the Arrivals Terminal in Dublin Airport. There are 6 different routes, 4 of which go to South Dublin. It is important to choose the correct route. The direct Aircoach to Dun Laoghaire is the Killiney/Dalkey route, using the County Hall/Marine Road stop for the Yacht Clubs, or the Royal Marine Hotel stop for the Royal Marine Hotel. This service operates hourly. The transfer time is approximately 40 mins. For full details, including on-line booking go to aircoach.ie
Dun Laoghaire is served by a number of local bus routes serving near-by suburbs and Dublin City Centre. You can find timetable details on dublinbus.ie, or use the smart journey planner map.
The train station in the town, adjacent to the harbour, is served by both local DARTs and mainline trains, which give quick access to the City Centre as well as many other towns along the coast. For a full pdf timetable or to view upcoming services got to irishrail.ie.
Transport For Ireland also have a fully interactive public transport map for Dublin which can be accessed here.